Iron Will Raw Pet Food Acquires 12,000 sq. ft. State of the Art Production Facility in St. Catharines, Ontario
May 22, 2018
May 22, 2018

ST. CATHARINES, ONTARIO: Local raw pet food company Iron Will Raw Inc. has announced that the company is moving from its Welland, Ontario facility to a state of the art food production facility at 600 Read Road in St. Catharines on June 1, 2018. The new facility was constructed to meet federal food safety guidelines set out by the Canadian Food Inspection Agency (CFIA) for human food production. This plant will allow the company to become an industry leader in meeting the highest possible food safety standards for raw pet food manufacturers.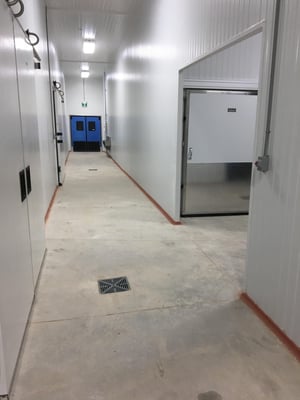 The new production facility is the first of its kind in the region for a raw pet food manufacturer, putting the company on the cutting edge of raw pet food standards. It will allow Matt Bonanno, owner of Iron Will Raw Inc., to accomplish the company's mission to manufacture the safest and highest quality raw pet food in Canada.
President of Iron Will Raw, Matt Bonanno, commented on the new acquisition saying, "Today's consumers are looking for transparency, quality and products they can trust and feel confident feeding to their four legged family members. This facility will allow us to continue producing a product that checks all of those boxes and more for customers and in turn provides tremendous confidence to our retailers and distributors in our products. The raw pet food market is emerging and it's our goal to be a leader in these important initiatives. I hope this milestone conveys the commitment we have to our products and the safety and quality that our customers can expect from Iron Will Raw."
Iron Will Raw Inc. has also partnered with Niagara College's Food Science program to develop and implement a HACCP compliant food safety program to ensure that food safety is the number one priority in their products, along with high-quality natural ingredients.
"I am excited to hear this news about Iron Will's new facility. When the team and I first met Patti and Matt, they were setting a new bar for pet food safety. Since then, we have collaborated on two projects and they even hired our Culinary Innovation & Food Science student who worked on the project for his summer co-op term. This will be a state of the art facility with food products that will keep our furry friends as healthy as we are when it comes to safe, quality food," says Kristine Canniff, Research Project Manager, Canadian Food & Wine Institute Innovation Centre, Niagara College.
<-- Block syntax -->

About Iron Will Raw Inc.




Iron Will Raw is a manufacturer of high-quality, locally sourced raw pet food for dogs and cats, providing proper nutrition to pets in Canada. Each blend is created using natural ingredients, is free from preservatives and is scientifically formulated to keep cats and dogs healthy.




-30 -

Contact:

Patti Moore, Iron Will Raw Inc.
Phone: 905-714-9698
Email: patti@ironwillrawdogfood.com
Share: