Iron Will Raw Inc. Becomes the First Raw Pet Food Manufacturer in Ontario to Receive the HACCP Certification
August 17, 2018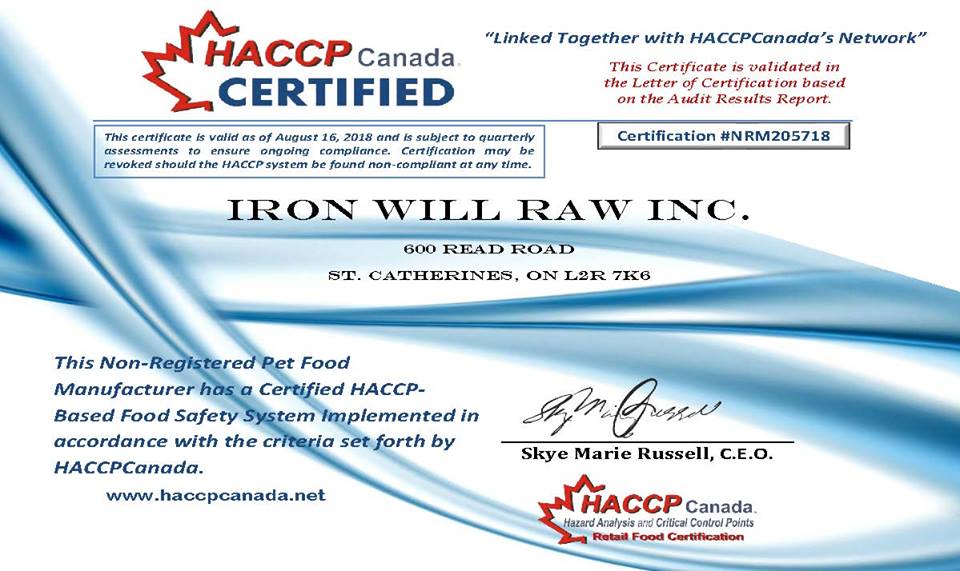 MEDIA RELEASE
August 16, 2018
FOR IMMEDIATE RELEASE
Iron Will Raw Inc. Becomes the First Raw Pet Food Manufacturer in Ontario
to receive the food safety HACCP Certification.
CATHARINES, ONTARIO:
Iron Will Raw Inc. formally received a food safety HACCP certification from HACCP Canada on August 16, 2018. This certification solidifies Iron Will Raw as the first raw pet food manufacturer in Ontario and the third in Canada to achieve the internationally-recognized HACCP certification. The certification demonstrates the company's dedication to operate at the highest standards in food safety, quality, traceability, and accountability.
HACCP is a food safety and quality control system originally developed for NASA. It empirically assesses any hazard associated and establishes a method for control which is monitored and recorded. This mandates a strict regime of protocols including, a facility designed specifically to produce food, the complete disassembly and sanitation of all machinery and their surroundings, bacterial swabbing, a strict supplier approval program, a full traceability system, on-site dedicated quality assurance personnel, and many other elements.
Under the program, the Iron Will Raw facility will be held to a bi-annual on-site third party audit by HACCP Canada to demonstrate compliance. Compliance to this system will allow Iron Will Raw to effectively monitor nutritious consistency, food safety, and product quality to push the potential of the raw pet food industry.
"It's hard to believe how far Iron Will Raw has come in just five short years," expressed owner Matt Bonanno, "I started the business believing 100% in the benefits and value of a species-appropriate, quality raw diet for all pets and wanted this to be available for all households. The commitment to produce the safest, highest quality and best raw pet food has continued to driveIron Will Raw and has led to this honorable achievement of being the first Ontario Raw Pet Food Manufacturer to earn HACCP Certification. Iron Will Raw will continue to forge the path of transparent raw pet food nationwide. We are ready to lead the Raw Pet Food industry to be stronger, safer, and more accountable, so that consumers can feel knowledgeable and assured in making the right choice for their companions."
Consumer demand for transparency has never been higher in the raw pet food industry. This program will push Iron Will to provide a consistent, safe product. Nathan Blezius, Quality Assurance Manager for Iron Will, notes that "It's amazing what our team has accomplished together. Every day we strive to make every package we produce a product we are happy to put our name on, and it's rewarding to see that daily effort become tangible."
About Iron Will Raw
Iron Will Raw produces raw pet food out of St. Catharines Ontario and features a range of raw meat products such as Rabbit, Lamb, Chicken, Beef, Kangaroo, Salmon, Pork, Turkey, and Duck. They are sold mainly through pet specialty retail stores in Central and Eastern Canada. For more information or to place an order please contact: www.ironwillrawdogfood.com or 1-905-714-9698
Share: