IRON WILL RAW: SAFE RAW PET FOOD HANDLING YOU CAN TRUST
January 31, 2019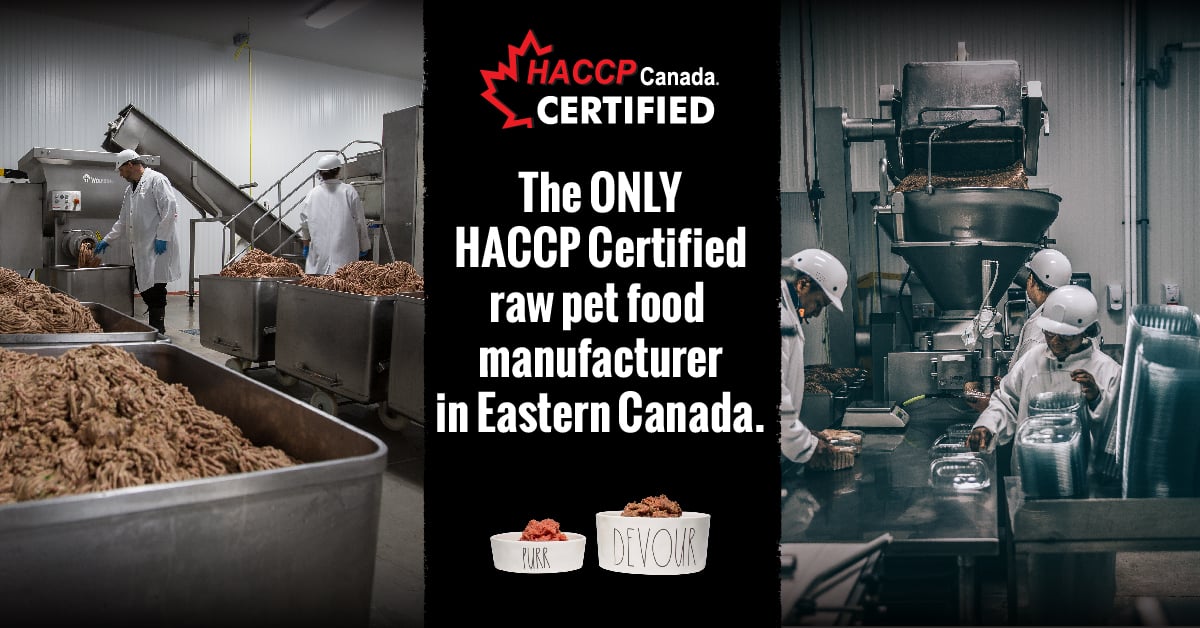 We're committed to providing our customers with safe, quality assured raw pet food. This commitment to you and your pets is why we're so proud to be the only raw pet food manufacturer in Eastern Canada to receive HACCP (Hazard Analysis Critical Control Point) certification. HACCP certification can only be achieved by maintaining the highest standards in food safety, quality, traceability and accountability.
What Goes into Maintaining our HACCPCanada Certification?
Constant testing and documentation - lots of it! When it comes to food safety and 3rd party audits of our facility and raw food, checklists and documentation are key. This documentation verifies that we've done exactly what we say we're going to do on a daily, weekly, monthly and yearly basis. By documenting our checklists, programs, validations, and verifications, we're able to review our programs to ensure that the most effective safety procedures are being employed at all times. In fact, our documentation undergoes a 3rd party quarterly audit in order to maintain our HACCPCanada certification.
After we follow through with our procedures, we check them again. For example, we perform and log ATP swab testing at our facility twice a week to confirm that our sanitization program is as effective as possible. By following such strict procedures, we are 100% accountable for our products.
ingredient monitoring is key
When it comes to making our raw pet food, we monitor each ingredient that enters the Iron Will Raw facility. Our team checks and documents the ingredients throughout each step of the production process to ensure that our rigorous standards for both safety and quality are met. We also retain a sample from EVERY BATCH of Iron Will Raw food we produce for ongoing testing and quality control.
Here are a few things we track while producing Iron Will Raw: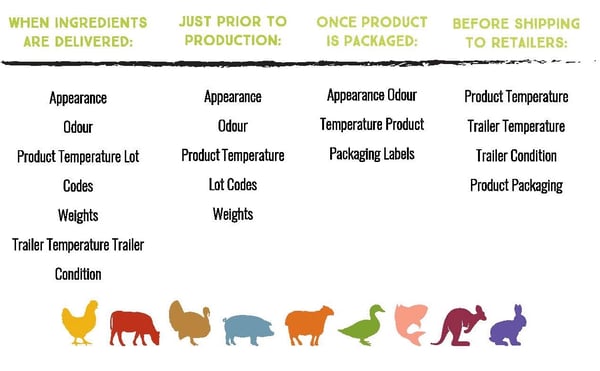 With raw pet food manufacturing, safety goes beyond the ingredients. Every step of the raw pet food manufacturing process is critical in maintaining a safe product, from raw materials to storage to production to delivery. We're proud to say that we can fully trace Iron Will Raw products from our suppliers to your local pet store.
It's no longer enough for pet food manufacturers to claim their food is safe; today's manufacturers must back up these statements. At Iron Will Raw, we have the HACCPCanada certification and documentation to prove it!
If you have any questions about our HACCP certified facility or species-appropriate raw food, please contact us on Facebook, Instagram , or send us an email at support@ironwillrawdogfood.com.
Want to learn more about HACCPCanada? Click here .
Share: